a frican violet [Saintpaulia]
This amazing plant can be in bloom all year around, even in freezing winter, as a houseplant.
Their foliage & colorful tiny flowers are beautiful, yet the best part is its productivity.
I don't know any other plants that are so rewarding as african violet. As you care, they respond you
with new leaf growth or another bud incoming profusely. Here shown are my favorites of late.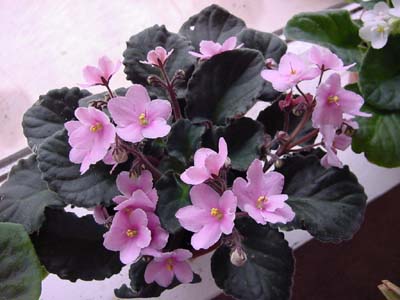 3.09.02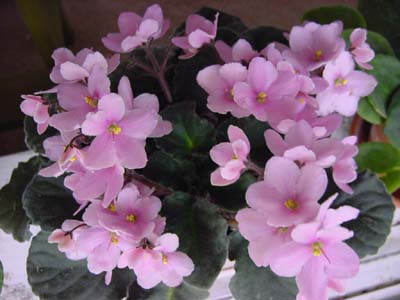 3.20.02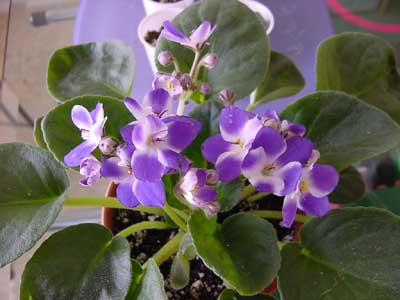 3.23.02
3.09.02
3.23.02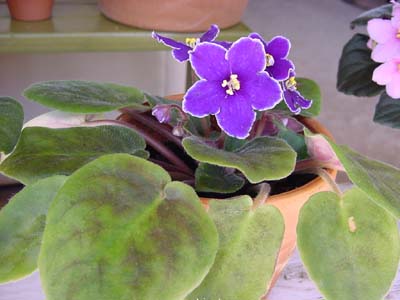 3.10.02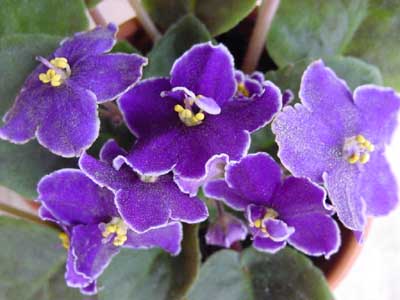 3.20.02
---
I, at first time, tried to divide suckers from one main crown.
It seemed brutal at its beginning, but it was not as bad as I thought after all.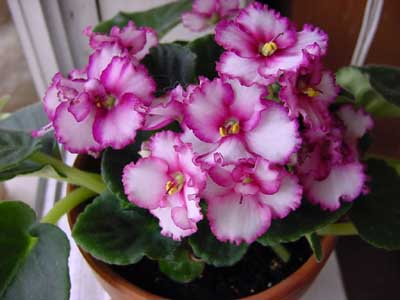 This is the parent plant which contained 3 crowns.
So crowded in a 4" pot. 3.09.02
I divided it into three plants. 3.23.02.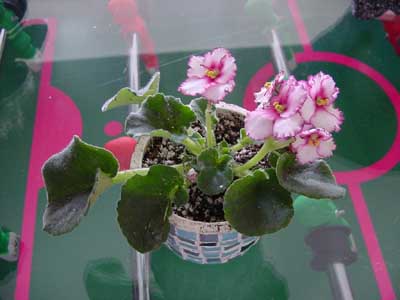 This is the main crown. Became much smaller. 2.5" pot.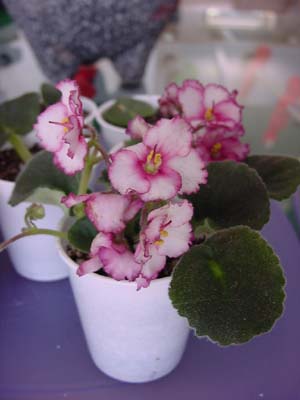 This is the second crown. 2" plastic cup.
It has to grow root by own since it doesn't have any roots of itself.
I will have to pinch all blooms soon for energy reduction.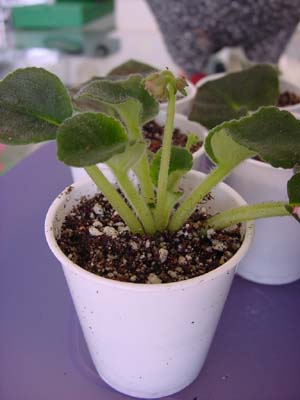 This is the third crown. 2" plastic cup.
This sucker has a few buds which also will have to go. No root yet.
It's exciting to have three plants out of one parent plant
although I had to waste many blooms & leaves through the procedure...
I planted those leaves for propagation.
I hope someday they will grow into a plantlets then plants.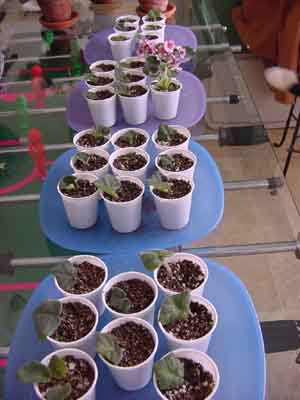 my leaves & plantlets on a 'FoosBall' table.
---
other violets
This violet is my first african violet Rhapsodie Marilyn. It performed very well.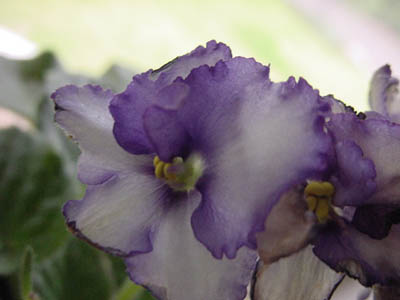 4.13.01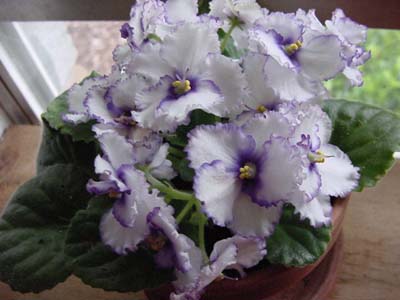 6.09.01
I like its subtle shade of purple on pure white. And this shade varies on each individual bloom.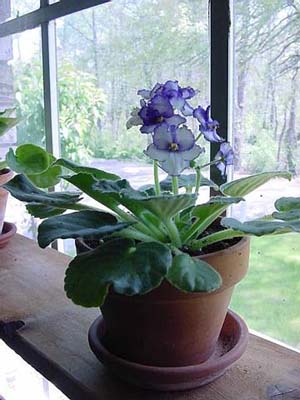 6.19.01
6.20.01
I had to leave behind them on mid-June for a sudden accident of my brother.

I had been away from the house & all plants for almost 7 months,
which meant so much work on my roommate's shoulder.
However, my dear roomate did great job!
This violet below was taken care of by him. He sent this pic over the email for me. Thanks!
8.13.01
My second violet is in pink shade, Rhapsodie Mary.
I love it the most when it's in bright light on their back. The petals almost shine by themselves.
There is one cactus hybrid called Pink Nymph (Mammillaria elongata 'Pink Nymph'),
but this violet can be more 'pink nymph'-tic than that.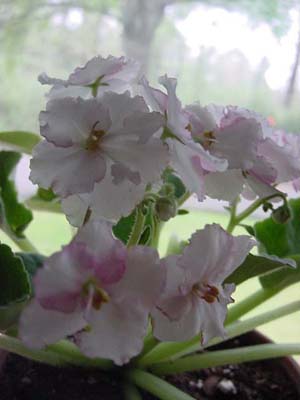 4.19.01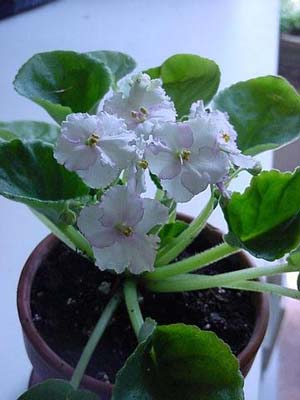 4.25.01
---
This is one of the newest arrivals.
It seems so unusual to have deep purple on one petal plus shade on another.
Some bloom has more purple than others. Some pure white.
It was sold as unnamed. I wonder if it's a hybrid. If you have an idea, please let me know.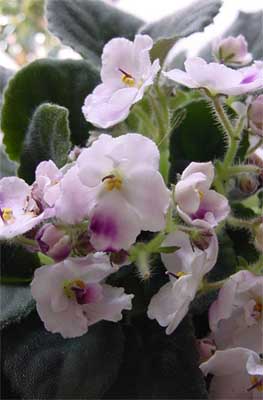 3.25.02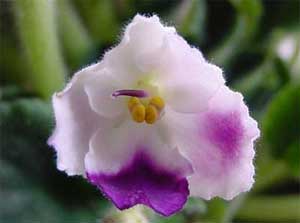 3.25.02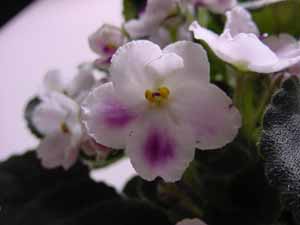 3.25.02
It also has such unusual sucker-crowns, which grow in parallels.
The suckers cause the whole plant very unbalanced look. They need to be removed soon.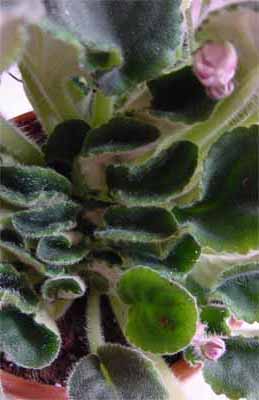 3.25.02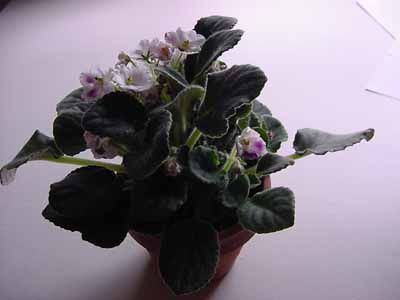 3.25.02
Ok, I am back with sucker divisions. I divided it last night. It was a huge sucker on the side. I made a slit with a sharp knife, so both the parent plant & the overgrown sucker can have roots of own.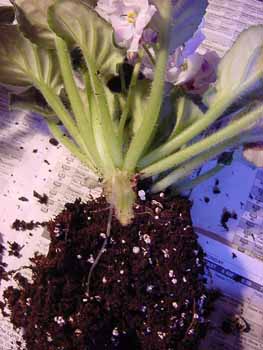 This is a mother plant.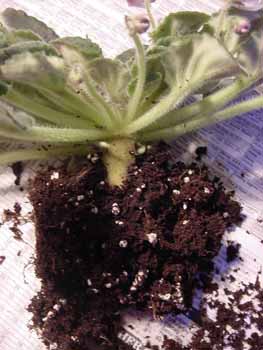 This is a sucker.
Almost same size.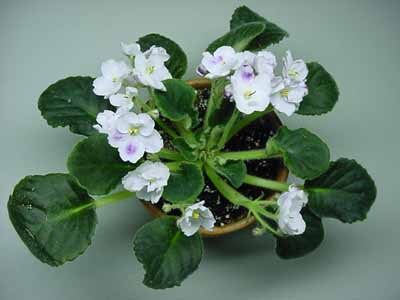 mother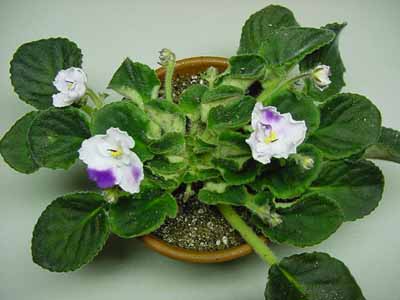 sucker
Both are in 4" pots.
I am not sure what to do with this unusal sucker growing in parallel... It look like many tiny crowns developing in a row. Seems malforming.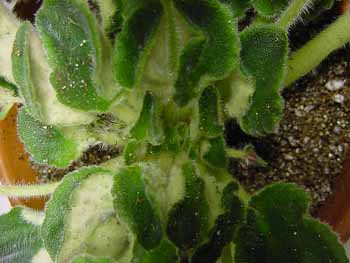 3/29/02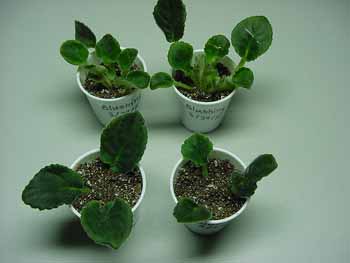 3/29/02
I got two small crowns and six leaves as well from this surgery.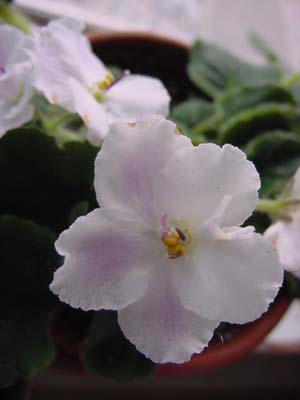 4.19.02
4.19.02
Some are single, while I find occasionally semidoubled blossoms.
Another new comer: Light Pink Semi(?) Double.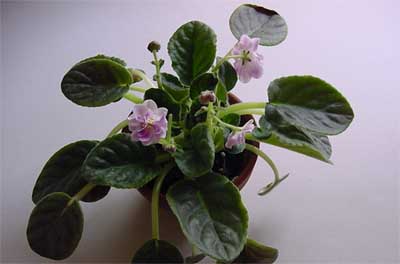 3.25.02
a little leggy..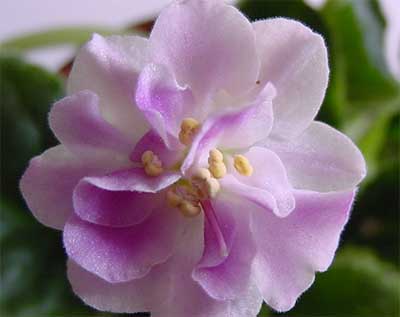 3.25.02
Is it semi double or double? Looks like 4 centers together. Gougeous.
3/30/02
3/30/02
Just opened their buds. This time, they have more purple shade than pale pink.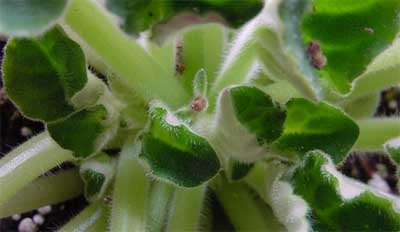 3.25.02
It also has suckers. I will wait until they grow a little bigger to devide.
I love these blue-white flowers as well as its broad flat leaves.
Beautiful in bright light..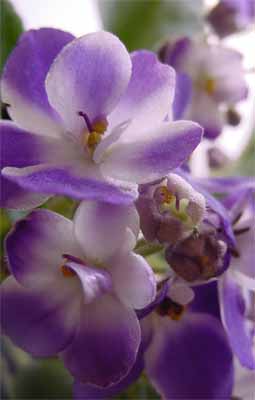 3.25.02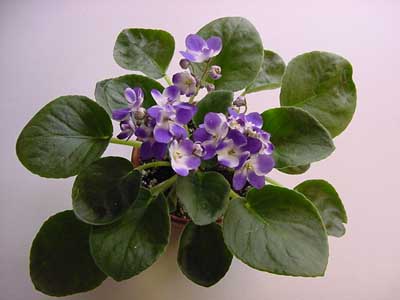 3.25.02
3.25.02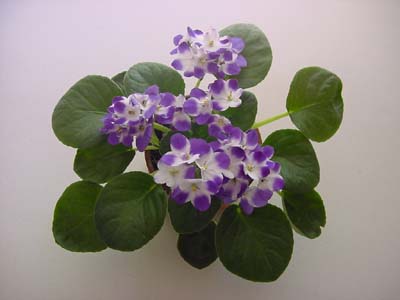 4.6.02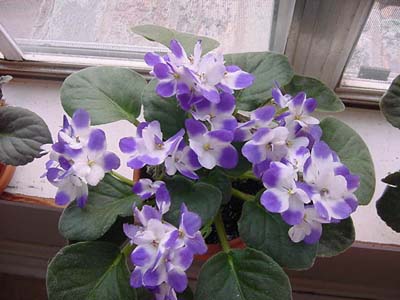 4.20.02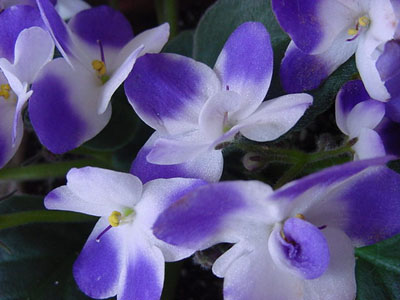 4.20.02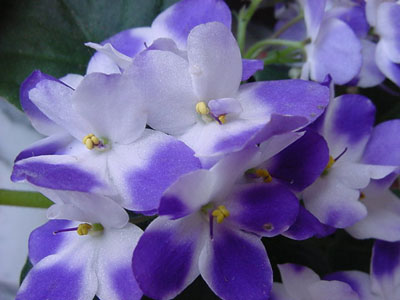 4.20.02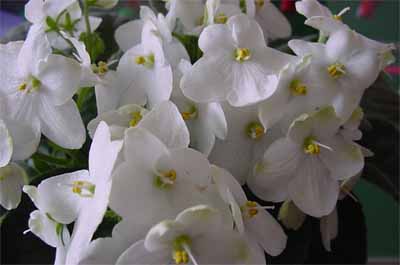 3.25.02
3.25.02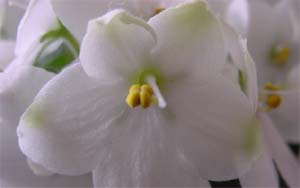 3.25.02
This white african violet recently develops green edge on a few blooms. Interesting.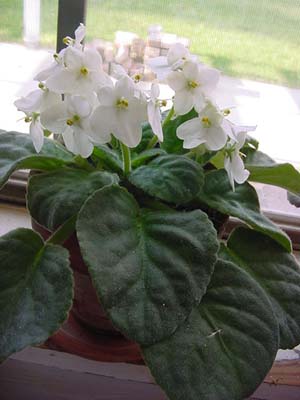 4.20.02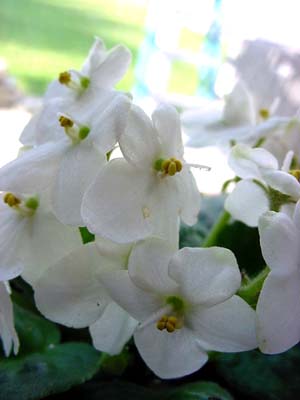 4.20.02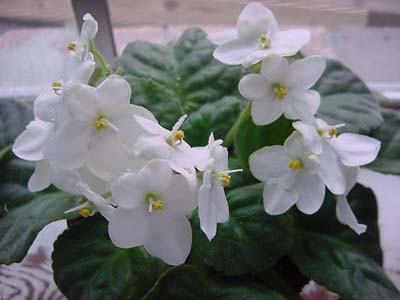 4.20.02
Fantasy Series 'Optimara Renoir'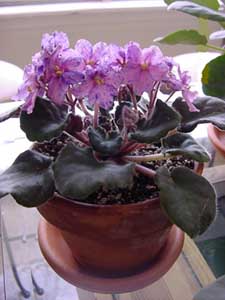 3.25.02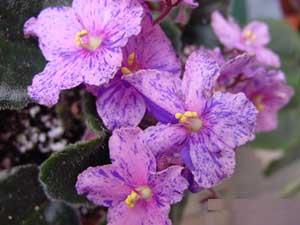 3.25.02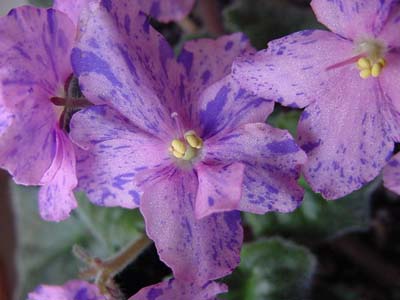 4.19.02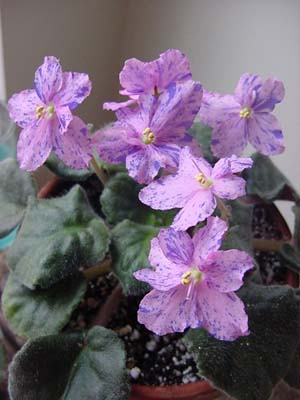 4.19.02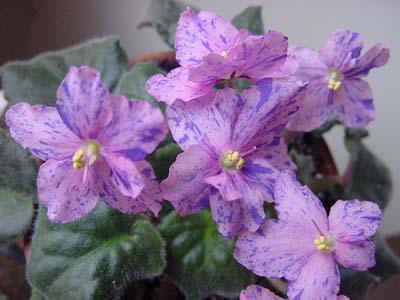 4.19.02
Baby lavender petals are edged with greenish white -unnamed Optimara.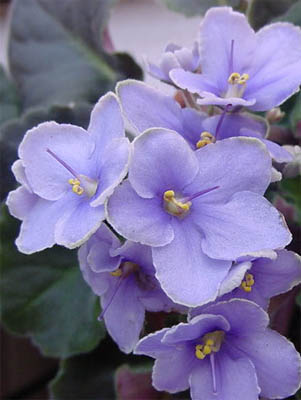 4.20.02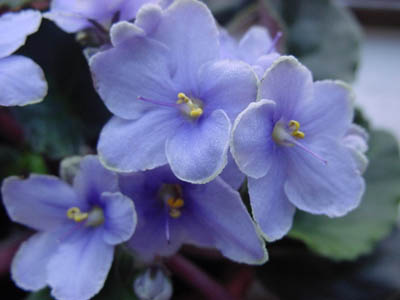 4.20.02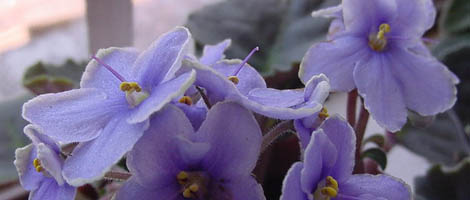 4.20.02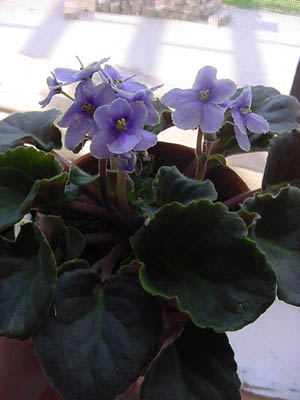 4.20.02
The baby pink blooms have added intensity as summer approaches.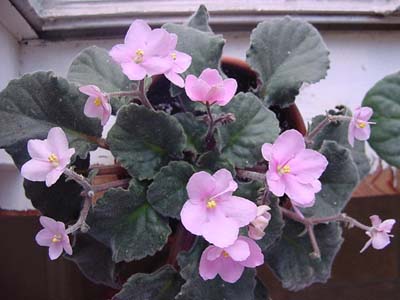 4.19.02
4.19.20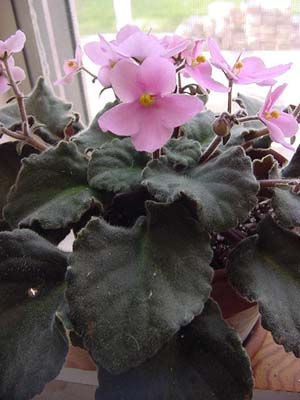 4.19.02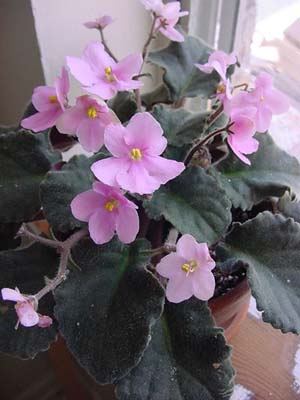 4.19.02
These next two plants are also unnamed.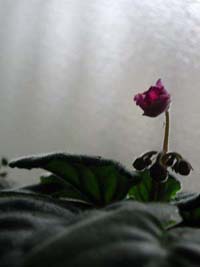 Dec. 2001
Sold as discounted, I had no idea which kind of look the bloom would have.
It's such challenging and rewarding to bring back to life.
Dec. 2001
I especially like to keep my eyes on a bud, which started to become soft and gradually to open.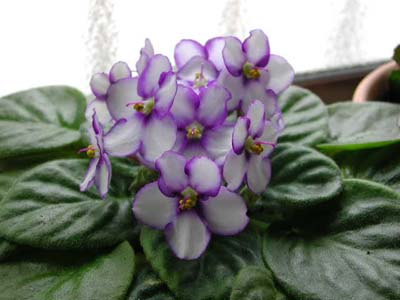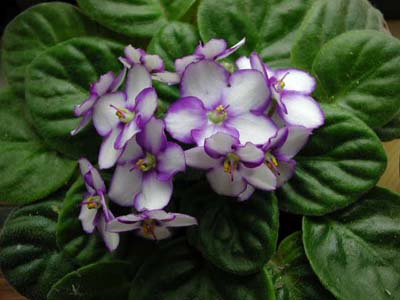 Nov. 2001
This also was almost a dead plant when I brought to home.
Now, only a few months later, it's reviving with a burst of bloom and healthily quilted leaves.
Above two plants are ones I bought in Japan. My mother is taking care of them now.
---
I just received a Happy Box from Rob's Mini-O-Let!
The perfectly packed happy box was arrived on 4/18/02 Thursday, filled with such pretty violets. It was right before I left the house. Lucky me! Otherwise, it would be left in a car port for hours, and the weather is intensely hot in south Mississippi- too hot for the violets. Everything is in wonderful condition.
Thanks, Rob & Olive!
Rob's Boolaroo
Semiminiature Trailer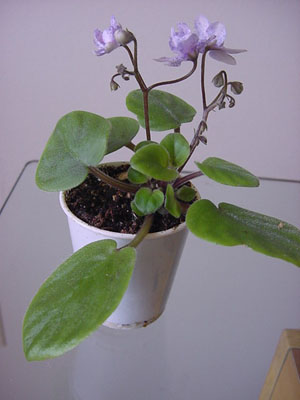 Rob's Gundaroo
Semiminiature Trailer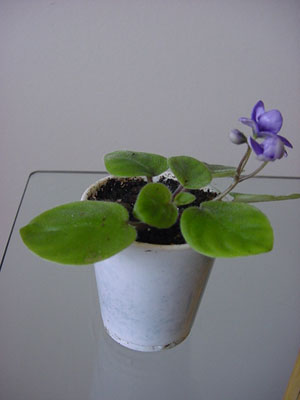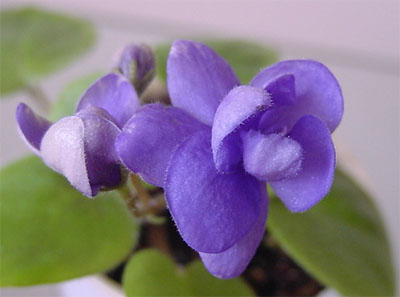 Rob's Humpty Doo
Semiminiature Chimera Trailer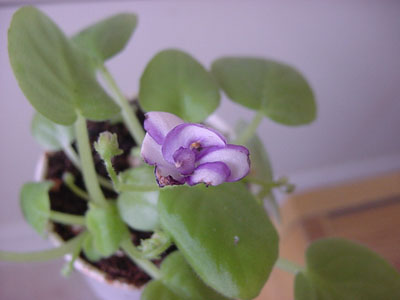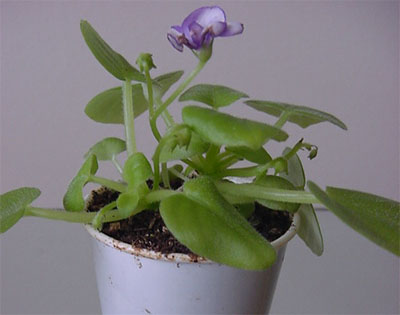 Rob's Jindalee
Semiminiature Trailer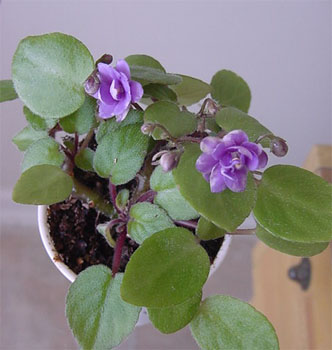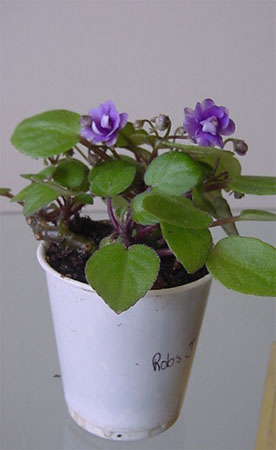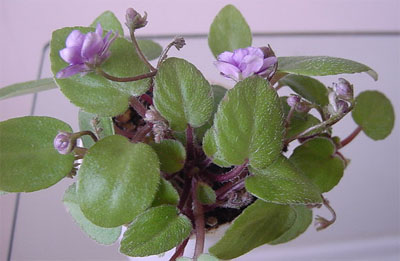 Rob's Willawong
Semiminiature Trailer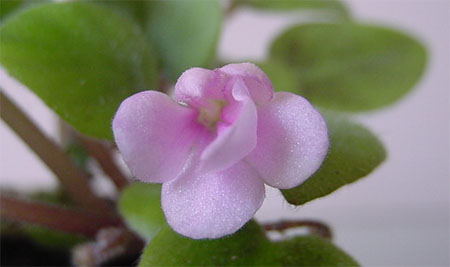 Rob's Dandy Lion
miniature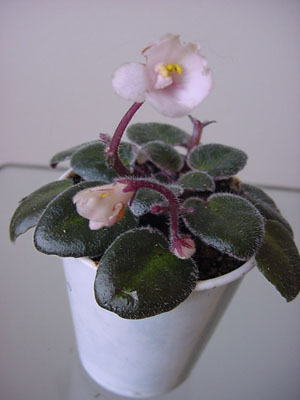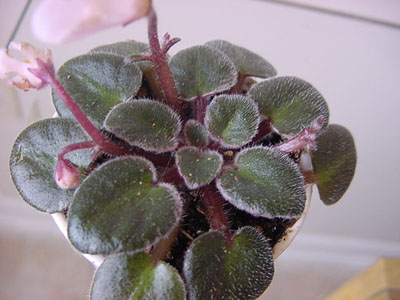 ---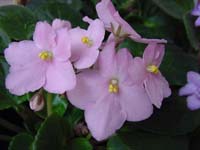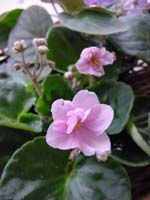 Her passion for african violets inspires me all the time.
These three varieties are a birthday gift for her in Feburary 2002.
I'm glad you liked them, Stef!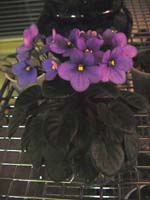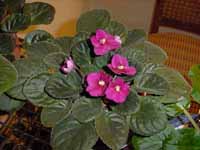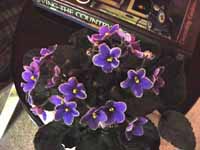 She has a nice collection of various african violets.
Her display is beautiful.
---
LINKS
African Violet Society of America
African Violet Forum at Gardenweb
---
---
all rights are reserved @ A. Saito March, 2002