Kitchen Garden
[herbs & spices]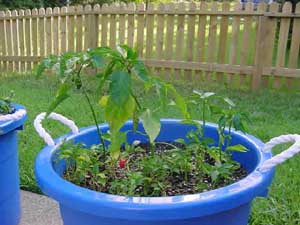 6/16/01
6/16/01
It, at first, was Ram's idea to have a kitchen garden in a portable bucket so we can carry it around.
There were so many choices of buckets we wanted to use; scratched silver buckets,
distressed wooden box we can make out of old woods at his grampa's old farm, etc. etc.
We finally decided on a huge plastic bucket with fun color. Here come our blue buckets.
We planted hot peppers in one, herbs in another.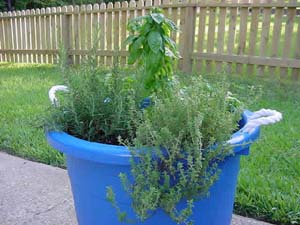 6/16/01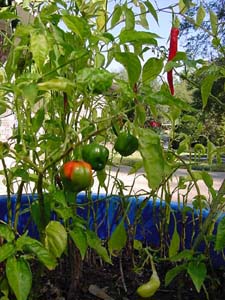 10/27/01
It went so well, so we decided to have the same project this year.

This is the newly planted pepper bucket.
hot peppers: 3 cayenne & 2 habanero & 1 harapeno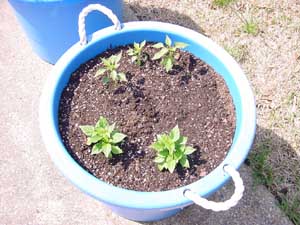 3/16/02
3/20/02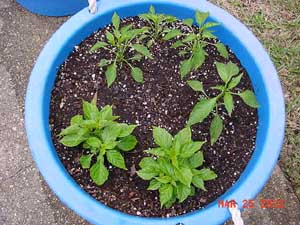 3/25/02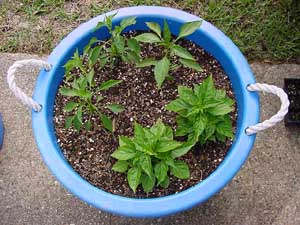 3/29/02
4/16/02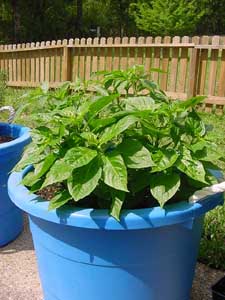 4/16/02
And this is the herb bucket.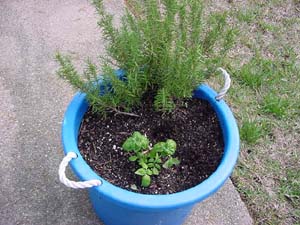 3/29/02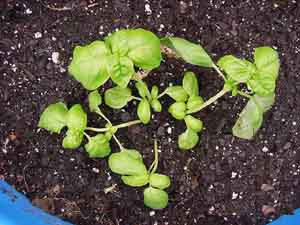 3/23/02
Rosemary and baby basils (Genovase Basil).
This rosemary was planted last year. It overwintered and getting bigger & bushier.
Basil seedlings are just planted. They will take a few days to establish.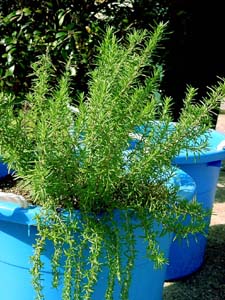 3/10/02
overwintered rosemary -growing more than twice in its size.
Other than blue buckets, we got one hanging bascket for cherry tomatoes.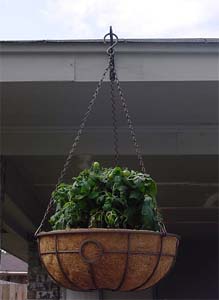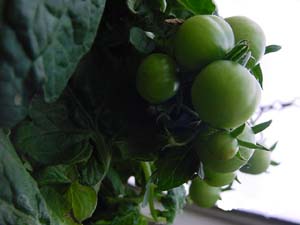 3/29/02
This is my first try on tomato. So much expectation for home made tomato basil sauce. Or I can try now fried green tomatoes!
4/16/02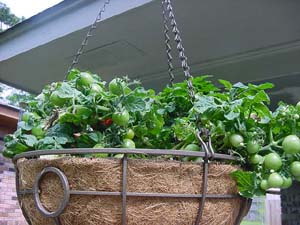 4/16/02
The first peek of red fruit!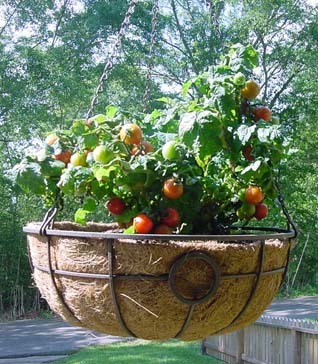 4/21/02
After 5 days from the first red face showing, we now have a burst of mature cherry tomatoes!
So sweet.
I made this kitchen herb busket for my friend's wedding gift.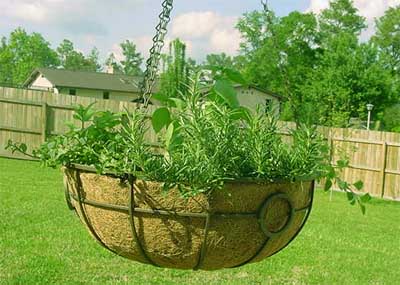 4/19/02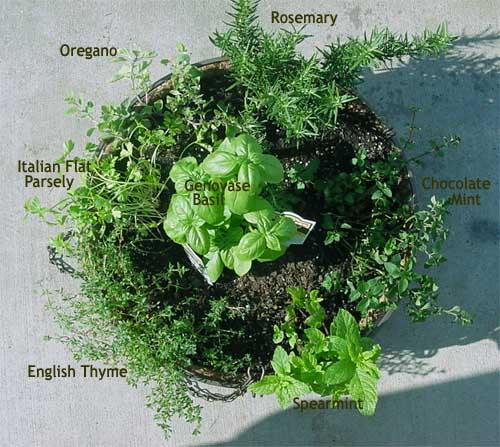 4/19/02
---
Besides, I have comtemporary terra cotta pots all around the house.
1/13/01
Italian flat parsely: more flavorful than moss curly parsley
4/19/01
golden lemon thyme & lemon balm in a tea herb wooden box
I, however, had to discard all herbs inside this box eventually, for figuring out that pressure treated lumbers (that this box is made out of) release chemicals into soil then plants that may affect human health. It was really hard for me to throw them away because I grew all these plants from seeds in my winter indoor garden, but I had to do it and start over. If you want to read more about pressure treated lumber in garden or in your wood-working project, click here.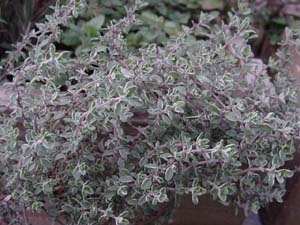 4/19/01
4/19/01
Above silver thyme & rosemary were in the wooden box too. This rosemary is also grown from seeds. It was challenging but had become very rewarding with patience and care. I sprinkled seeds on soil surface in a pad, moistened it with a mist, covered with a plastic wrap, and placed it in a refrige (lowest position in the refrige alongside with veggies) for six weeks. Rosemary needs certain period of time of coldness to germinate. After six weeks, I placed the pad under an artificial light Metal Halide (that is usually used for a fish tank but worked great on indoor garden as well). My germination rate was about 50-60%, which was more than wonderful comperaing general rosemary germination rate of 30%. By the way, it took five months to reach 2" tall.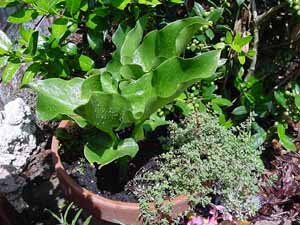 5/4/01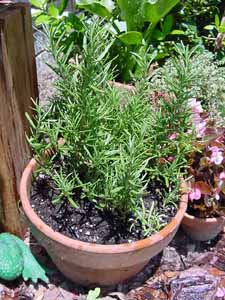 5/4/01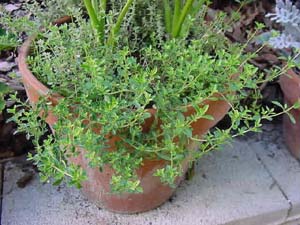 6/16/01
I like to plant thymes with showy bulbs. Its tiny leave & bulbs' big waxy leave make nice contrast as well as gorwing habit of thyme cascading with bulbs upright. Above right is colla lily with silver thyme. Below is hyacinse with golden thyme.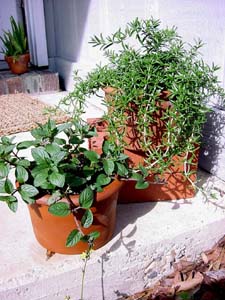 3/11/02
3/20/02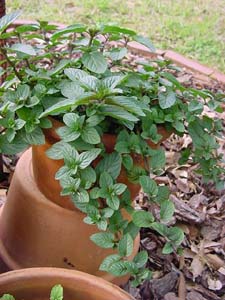 3/29/02
Look at the chocolate mint and compare its growth on 3/11 and on 3/29. This energy is what I love to see.
Also, it's a treat to put a sprig or two for a cup of latte.
Left: chocolate mint & trailing rosemary. Middle: chocolate mint, orange mint & spearmint. Right: chocolate mint.
We love to cook and eat as well as grow. Want to get shared some recipes? Click here.
---
all rights are reserved @ A.Saito March 2002